Former Olympian inspires Winnipeg cancer survivors in Dragon Boat coaching session
News Posted on June 13th, 2023 by Kayla Rosen CTVNewsWinnipeg.ca Editorial Producer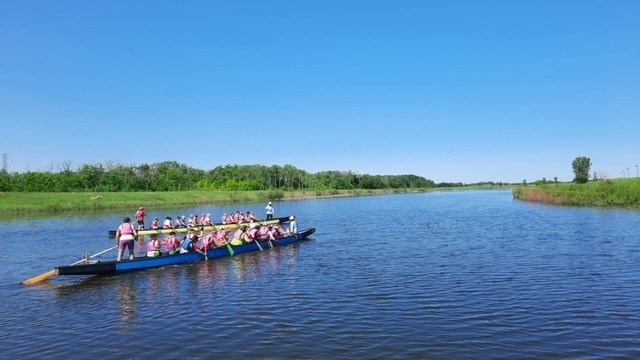 https://winnipeg.ctvnews.ca/video?clipId=2706048&jwsource=cl
Olympian Kamini Jain helps train Chemo Savvy | CTV News
A dragon boat team made up of breast cancer survivors got some training tips over the weekend from an Olympian.
Sprint kayaker Kamini Jain, who competed in the Sydney and Athens Olympics, held a three-day training clinic for the Chemo Savvy dragon boat team.
"They're a great, energized group. They're really passionate and committed and they really are highly social," Jain said.
"They really enjoy themselves as a group and are really attentive to everything we've been teaching them, so it's been really rewarding and fun."
During the training sessions, Jain worked with team members on their technique, comradery and perfecting their stroke.
"In dragon boat, technique's really important in order to be able to compete with less injuries, and be more efficient, and then go faster," she said.
Chemo Savvy is a team made up of breast cancer survivors. The team races to bring awareness to the disease and to encourage others to use precautionary tools for early discovery and diagnosis.
Chemo Savvy has about 100 active members and 100 alumni.
"For me, finding Chemo Savvy gave me a team of women just like me who has been through what I had been through that were interested in teaming, being fit and a really cool sisterhood," said Tammy Mayer, president of Chemo Savvy.
Though Jain spent the weekend coaching the members of Chemo Savvy, she was also able to learn a few things herself. She said the team taught her about resiliency and the ability to turn tragedy into strength.