Chemo Savvy celebrates 20 years!!!!
News Posted on January 17th, 2017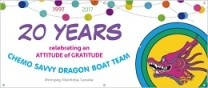 February 13, 2017, CHEMO SAVVY will light the Manitoba Legislative building pink, the start of a year of celebrations marking 20 years of dragon boating for breast cancer survivors in Winnipeg. The Province of Manitoba, with the Honourable Rochelle Squires, Minister of Sport, Culture and Heritage will assist the team by flicking the switch lighting the Legislative building pillars.
The event takes place on the stairs of the legislative building at 5:00 pm on Monday February 13, 2017, and will be attended by CHEMO SAVVY members, friends, family, alumni, sponsors and supporters.
The theme of the year of celebration is 20 years – Celebrating an Attitude of Gratitude. The team and breast cancer survivors across the world have much to be grateful for, primarily the dedication of millions of women around the world who for the last thirty years have dedicated their energy into raising funds for breast cancer research. This tireless work has resulted in a significant reduction in mortality from this cancer and a reduction of the debilitating impact of the treatments. More specifically to dragon boating we are grateful for the Vancouver British Columbia research of Dr. Don McKenzie and the initial women of the "Abreast in a Boat" the first breast cancer survivor dragon boat team. The results of the research provided the scientific evidence of the value of dragon boating for the psychosocial and physical rehabilitation of women post treatment. The work of Dr. Don and the Vancouver women have made dragon boating for survivors a world-wide phenomenon, with teams on 6 continents and 20 countries, creating an International Organization to support the movement/ sport and has provided for International level festivals where survivors from around the world can celebrate the success of their battle and spread the word on the glories of dragon boating to slay the "breast cancer dragon".
CHEMO SAVVY epitomizes active rehabilitation post a traumatic and possibly life threatening disease. The team provides emotional support, comradeship and hope to women that there is life after cancer. The team encourages women during and post treatment by demonstrating a physically active and socially engaged life, an opportunity that should be available for all cancer patients.
Currently CHEMO SAVVY is a team of 70 women, ages 38-84 that make a commitment to healthy living and fitness, to promoting breast cancer awareness and to honouring those that have passed. We practise at Balmoral Hall throughout the winter and on the mighty Red throughout spring, summer and fall. The team holds many trophies for placing first in women's division festivals held in the city, and has won numerous awards for our annual participation in the Santa Claus parade.
Please join us at 5:00 pm on Monday February 13th at the Manitoba Legislative Building. For more information please contact Cheryl Taylor [email protected] 204-334-5792.