Our History
Dragon boating began over two thousand years ago in China during a time of war. Qu Yuan, a well-loved poet and political adviser, leapt into the Mi Lo River holding a great rock in a display of his heartfelt sorrow at the devastation of his Kingdom.
The people loved Qu Yuan very much and raced out in their fishing boats to the middle of the river in a vain attempt to save him. They beat on drums and splashed their oars in the water, trying to keep the fish and water dragons away from his body. To honour his soul and to ensure that it didn't go hungry, they scattered rice into the water.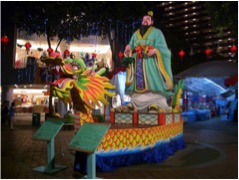 However, late one night, the spirit of Qu Yuan appeared before these friends and told them that the rice that was meant for him was being intercepted by a huge river dragon. He asked his friends to wrap their rice into three-cornered silk packages and to tie five colours of string about it to ward off the dragon.
Now over 2,000 years later, the reenactment of this legend is conducted as dragon boat racing—a globally- celebrated event on the fifth day of the fifth month of the Chinese calendar during the summer solstice—the time of year typically associated with disease and death and when people felt most helpless against the powers of nature.
The race has come to symbolize both people's struggles against nature and the fights against dangerous enemies in an environment of high energy, good spirits, and cooperation with the ultimate demonstration of teamwork!
The very first breast cancer dragon boat was organized in Vancouver, British Columbia. Abreast in a Boat began as a research project. The initial project was headed by Dr. Don McKenzie, a sports medicine physician and an exercise physiologist who had been conducting research on cardio-respiratory fitness levels among women. Of the two groups involved, one had had breast cancer. Those who had experienced breast cancer had all been cautioned not to participate in activities that involved strenuous use of the muscles in the upper body. This advice was given because, in many instances, women developed lymphedema after surgery or radiation.
Although there was no scientific evidence to indicate that exercising was the cause, there was and is no cure for the condition when it occurs. Dr. McKenzie wanted to enable women to resume active lifestyles, free from the worry of developing this painful and disfiguring condition. He devised a program to see if it was possible.
Dragon boat racing was chosen because it involves vigorous upper body exercise and, because it uses mainly muscle groups, it is less likely to cause the types of joint injuries that running and other cardio-intensive activities can cause to hips and knees—a consideration of the stage of life in which women often develop breast cancer.
Regular exercise has a beneficial effect on health. In fact, it represents one of the most significant health factors that an individual can modify and control. Aside from lowering the risk of breast cancer, regular physical activity in women reduces overall mortality and the incidence of coronary heart disease, diabetes, stroke, osteoporosis, obesity, disability and it also lessens the impact of chronic problems such as arthritis and cognitive decline.
There is also some indication that patients with lymphedema experience relief from doing the very physical exercise they have been counselled not to do. The debate concerning whether to exercise or not is over; the only decisions are which exercises to do and how to get involved.
Paddling is a physically demanding activity that combines upper body and trunk exercise with the aesthetics of movement on the water in boats that have an ancient tradition. It can become quite a spiritual experience. It is both demanding and exhilarating. Most importantly, it is fun.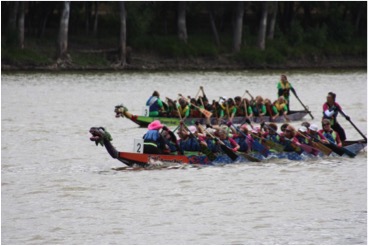 Chemo Savvy leading in FMG race, The Forks, September, 2013
In 1996, at the conclusion of the original research project, everyone involved wanted to continue. So, not only did the Vancouver team continue, it began to spread its influence throughout Canada, the USA, Australia, Asia and Europe.
In Winnipeg, Breast Cancer Action Manitoba, along with other members of the local breast cancer community, was inspired to organize a local team. After contacts with the Vancouver team, which gave both advice and encouragement, the Chemo Savvy Breast Cancer Dragon Boat Team began its organizational process in the fall of 1997.
In March of 1998, members began a weekly workout at the Downtown YM-YWCA to prepare for Winnipeg's dragon boat festival in August. Many of the women on the team had little previous experience with a fitness regimen, but everyone was up to the challenge. By August, the team was strong with a roster for one crew and a few spares and many supporters. Although synchronicity (remember that word!) was not yet part of their lexicon, their peachy-pink t-shirts and the fact that they were all breast cancer survivors caught the attention of the media, the audience and the other teams.
At the festival, the crew paddled two heats and though their race times were less than notable, they won the team's first trophy: for being the "most inspirational".
The FMG Dragon Boat Festival, held in September in aid of cancer charities, attracts about 150 teams. Chemo Savvy enters two crews of 25 and there are still a few spare paddlers. As fitness has improved and paddling skills increased, Chemo Savvy crews have finished at or near the top of the Women's Division standings since 1999.
These impressive performances have generated fans, attracted new members, and kept the team's message of awareness, fitness and fun in the public eye.
There are a few Manitoba Dragon Boat festivals now—The Canadian Cancer Society's River City Festival takes place during the first week of June. The Manitoba Canoe & Kayak Dragon Boat Challenge occurs in early September. These provide additional opportunities for Chemo Savvy crews to "go public" locally and to keep our team's message alive.
Manitoba's second dragon boat team, Westman Waves of Hope, attracts women from the Brandon area. We have a special connection with this team not only because they are fellow Manitobans but Chemo Savvy encouraged the creation of the team in 1999. There is usually a yearly event planned on Lake Minnedosa with the women of Waves of Hope to which we travel.
As a result of their close proximity we share a special connection with the women in the Kenora area, The Kenora Dragon Tamers. We see them at many of the same festivals and always invite them to our annual Awake the Dragon dinner, along with the Westman Team.
Other Manitoba festivals include Winnipeg's River City Dragon Boat Festival—they provide additional opportunities for Chemo Savvy crews to "go public" locally. In 1999, Chemo Savvy helped start Waves of Hope, the dragon boat team from Brandon.
These days, Chemo Savvy teams travel "away" to festivals across Canada during the summer season: the team has been in Vancouver, Edmonton, Calgary, Saskatoon, Regina, Kenora, Peterborough, Thunder Bay, Toronto, Ottawa and Halifax.
Chemo Savvy has competed in the USA, Australia and New Zealand; members have paddled on combination teams in Vancouver, Italy and Israel.
In 2005, Vancouver's Abreast in a Boat celebrated its 10th anniversary by hosting the first World Breast Cancer Dragon Boat Regatta with 12 of the "original" members in attendance. In 2007, Australia's extensive breast cancer dragon boat organization, Dragons Abreast Australia, hosted the second world regatta. Chemo Savvy crews have participated at both events.
The third International World Breast Cancer Dragon Boat Regatta sanctioned by the International Breast Cancer Paddling Commission (IBCPC) took place in the 2010 season in Peterborough, Ontario. Chemo Savvy was there.
Chemo Savvy competed in the fourth International Breast Cancer Dragon Boat Regatta in Sarasota, Florida, in October, 2014, and will compete in the fifth International Breast Cancer Dragon Boat Regatta in Florence, Italy, in July of 2018.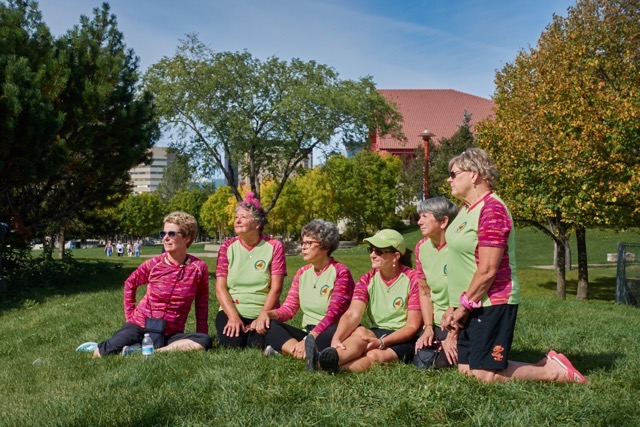 Why Dragon Boat racing?
Dragon Boat racing is an ancient Chinese Ceremony that symbolizes the human's struggle with nature and the fight against deadly enemies. For Breast Cancer survivors, this symbolism is a poignant reminder of the struggle against the cruelly random nature of breast cancer and the fight to control the disease. For many this includes learning to cope while living through the often devastating effects of chemotherapy - hence the name, Chemo Savvy.
A dragon boat team is a wonderful ballet of timing, precision and grace which belies the exceptional physical endurance needed to handle the boat. Dragon boats are 38 feet or longer and adorned with a colorful head and tail. Paddlers - 20 in all - sit in pairs while a drummer in the bow beats out the pace and a steersperson in the stern keeps the course with a steering paddle.